The Cadbury's Caramel Bunny
---
What can I say? Cadbury's use this adorable bunny girl to promote Cadbury's Caramel products - "The Big Easy" as they claim. The little one on the right is from a Caramel trifle, the larger image below is from the chocolate bar.

She has appeared in a number of short animated adverts which these images don't really do tribute to - you will have to imagine her slow sexy voice (the accent is probably from Devon or Cornwall), and relaxed attitude to life.
Sex, fur and chocolate: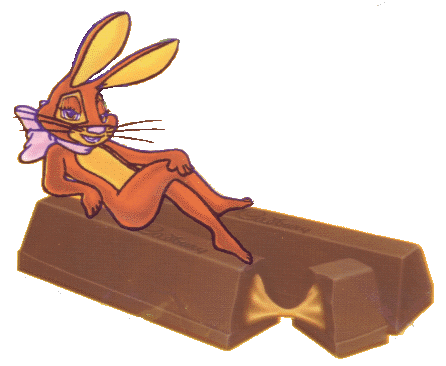 -sure pushes my buttons!
Voice artiste
Miriam Margolyes OBE provided the voice of the Cadbury's Caramel Bunny. Depending on your taste and/or age you might remember her as Lady Whiteadder (Blackadder's aunt) in the "Beer" (a turnip that was exactly the same shape ... as a thingy) episode of Blackadder II, Sophie (Mason's maid) in Cats and Dogs, or perhaps as Professor Sprout in the Harry Potter films. IMDb will find you more noteworthy appearances.
Page and images Copyright © 1998-2015 by
Dingotush
Cadbury's Caramel Bunny © Cadbury's
No commercial use without owner's permission.
$Revision: 1.1 $ $Date: 2004/08/23 18:50:47 $